Proximity Room View App for Reservable Resources
The Proximity Room View app lets your members and visitors easily check in to conference rooms, see guest WiFi information, end their reservation early, and even extend reservations without even leaving the room. Proximity Room View comes included with the price of every Proximity subscription.

Room View for iOS
Room View can be used with iOS devices that run on iOS 10.3 or later, however iOS 11 is highly suggested.
Click here to find Proximity Room View for iOS in the app store.
Room View for Android
Room View can be used with Android devices that run on 7.0 and up.
Click here to find Proximity Room View for Android in the Google Play Store.
About the App:
There are two different views on the Room View app -- internal and external; each view serves a unique purpose. See below just a few features you can start using with the Proximity Room View app which comes included with the price of your Proximity subscription!
As a manager, you can switch the view (internal/external) by tapping once on the screen and clicking the gear icon in the lower right-hand corner.
Remember to set your passcode on your Room View settings screen. This will help you prevent members from changing things they shouldn't have access to.

Internal View
This view would be used on a device that sits inside the resource (example: sitting on a conference room table.)
Require member check-in

The check-in process allows members to indicate that they are actually present for their reservation. This can be helpful to make sure that your resources don't sit empty and unavailable.
You can set your reservable resources to require check-in.

This is optional, and if you activate this setting, any reservations will be canceled automatically if they have not checked in within the first 15 minutes of the reservation.
To set this option, use your Proximity dashboard and navigate to Manage Resources > Reservable Resources and edit the appropriate resource by clicking on its name or "Edit" next to the resource name.

View meeting details

Your members will be able to see:

Which conference room they are in (more useful than you think).
When their reservation begins and when it ends.
The WiFi network name and password (if you have our Advanced Meraki WiFi integration).
The time! (also more useful than you may think.)
Perhaps most importantly, attendees will receive verbal reminders to check-in and when their reservation is ending.

End meeting early

Members can use Room View to cancel their event early if they are finished with the conference room. Members do not get a refund or free time back for ending early. The system will bring up a warning making this clear.

Extend meeting time

Members can also extend their reservation and will be billed appropriately (as long as there are no existing reservations immediately after).
External View
This view would be used on a device that is held outside the reservable resource (example: mounted outside of the conference room door.)
See conference room schedule
Make local reservations ("on-demand")

Members can press the "use now" button to make a free 15 minute reservation - say if they need to pop in to make a phone call.
It will show up on the reservation calendar as a "Local Reservation" while the reservation is active. It disappears after the reservation is over. The manager can view the calendar on the dashboard and check a box to view previous local reservations.
This can be turned off in Settings.
Internal View Examples:
View showing the meeting details and guest wifi information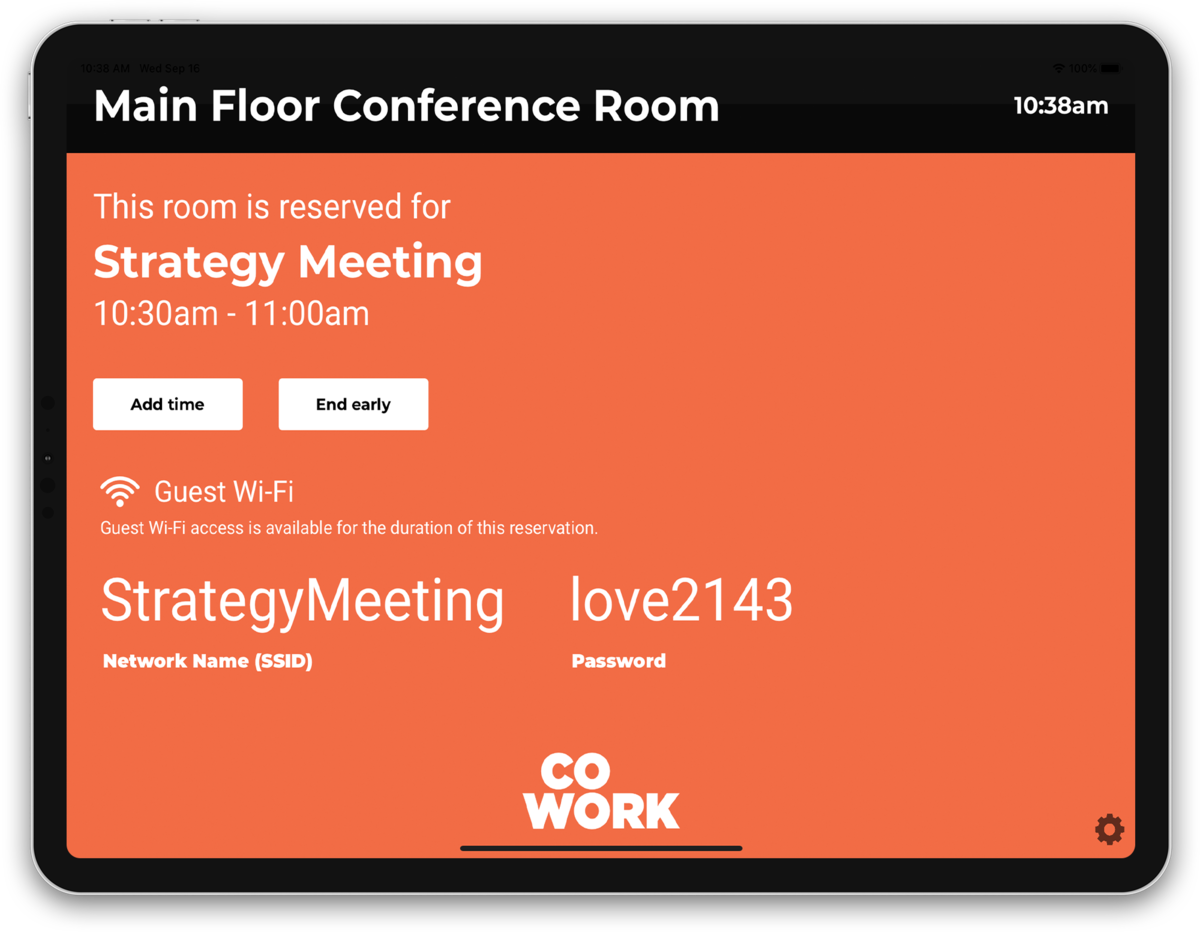 View showing that the conference room is free to use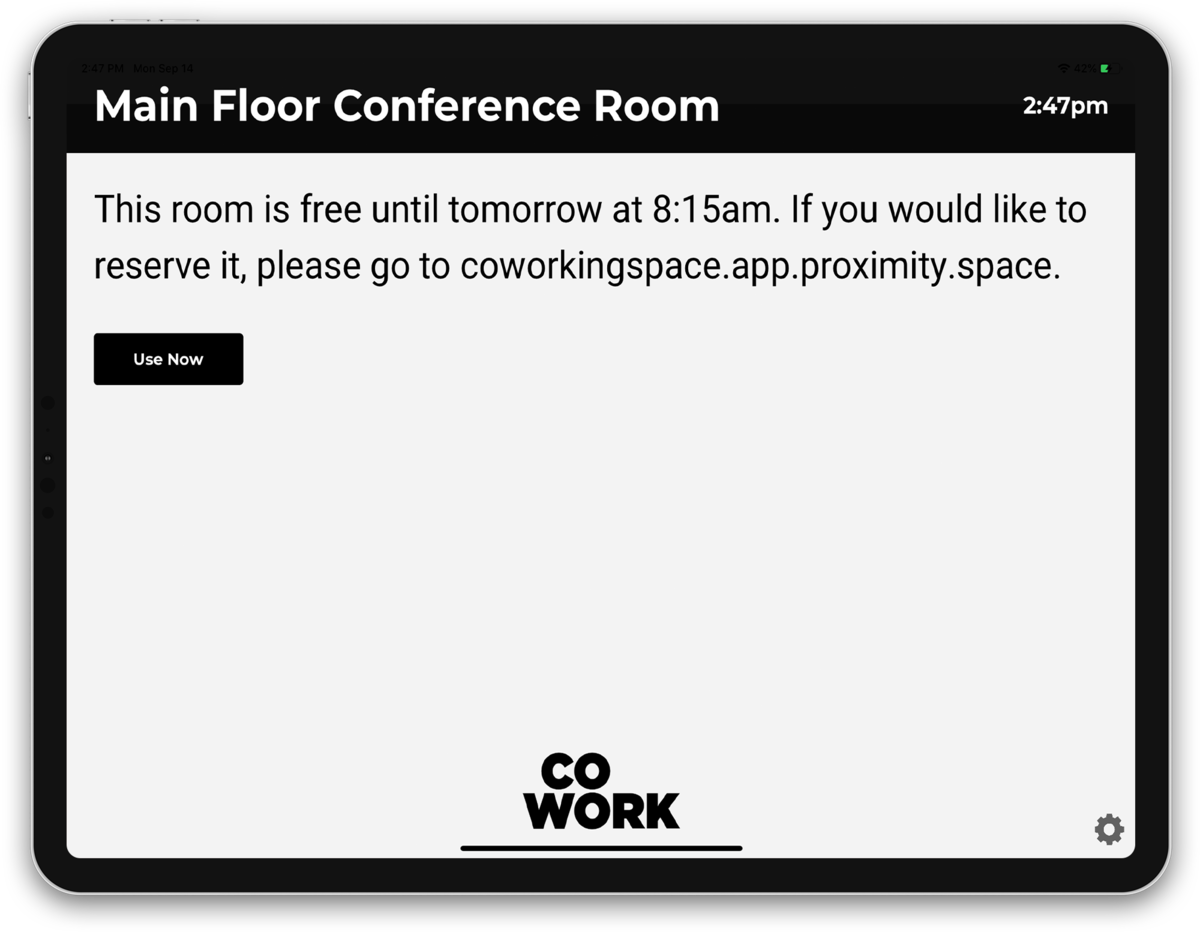 View showing the reservation check-in screen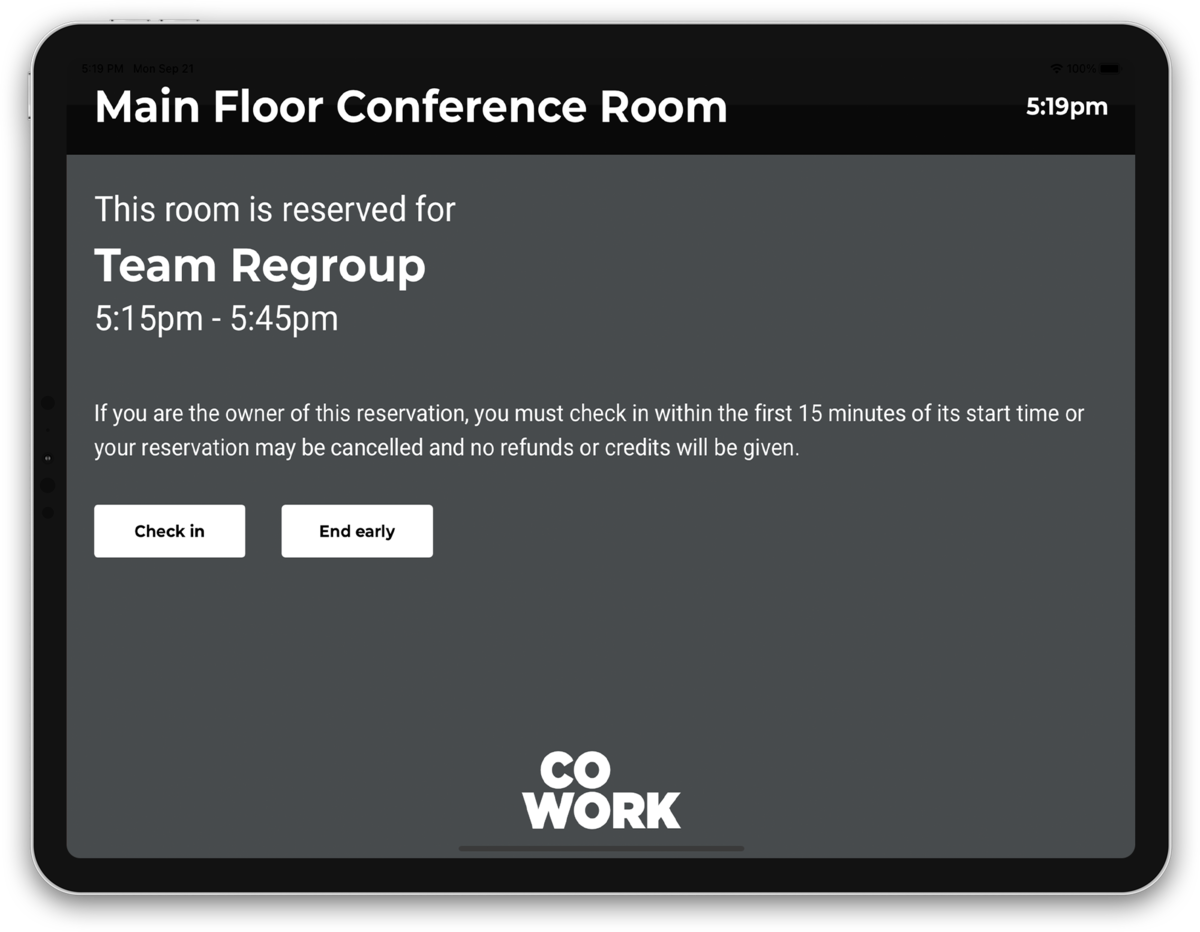 View showing the 5-minute countdown for the time remaining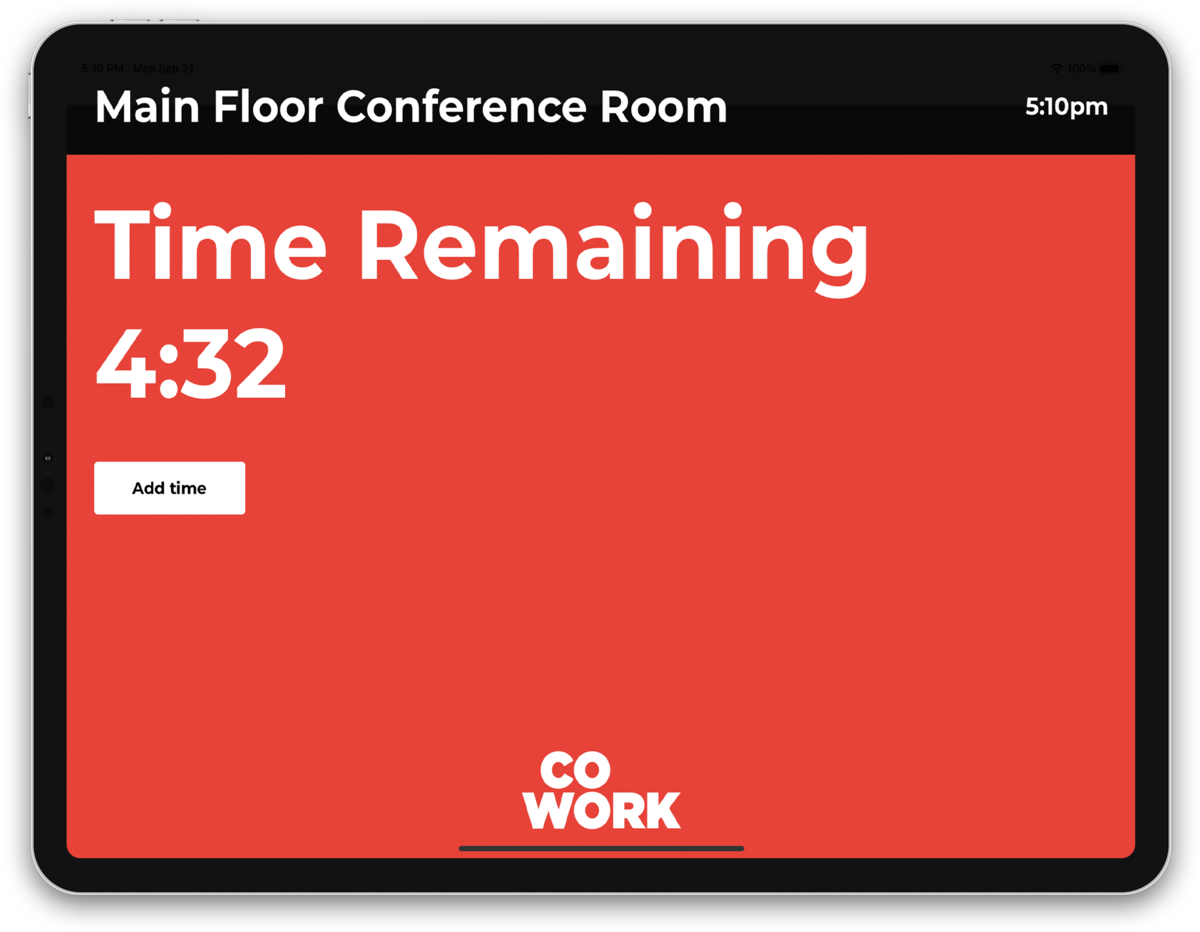 External View Examples
View showing the conference room schedule and room availability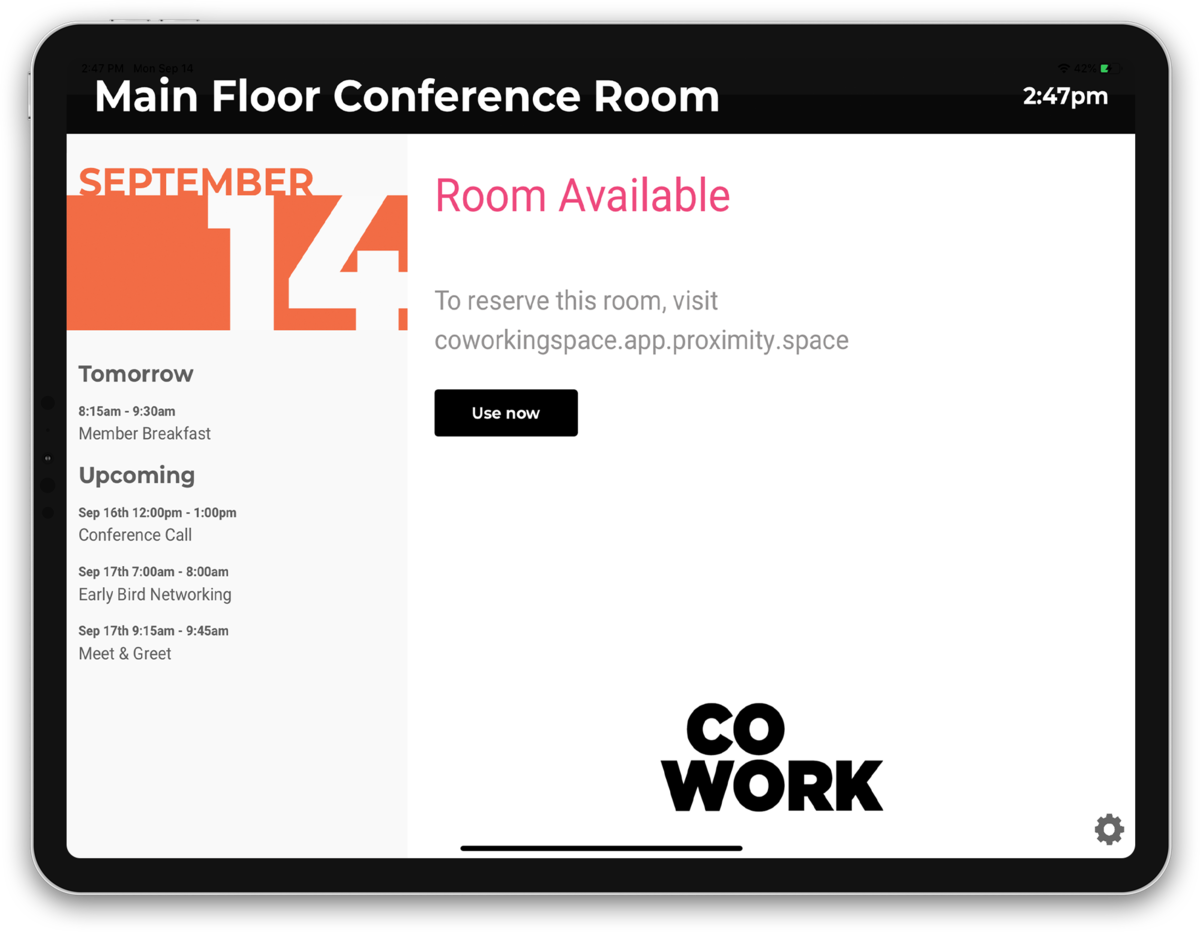 View showing a meeting in progress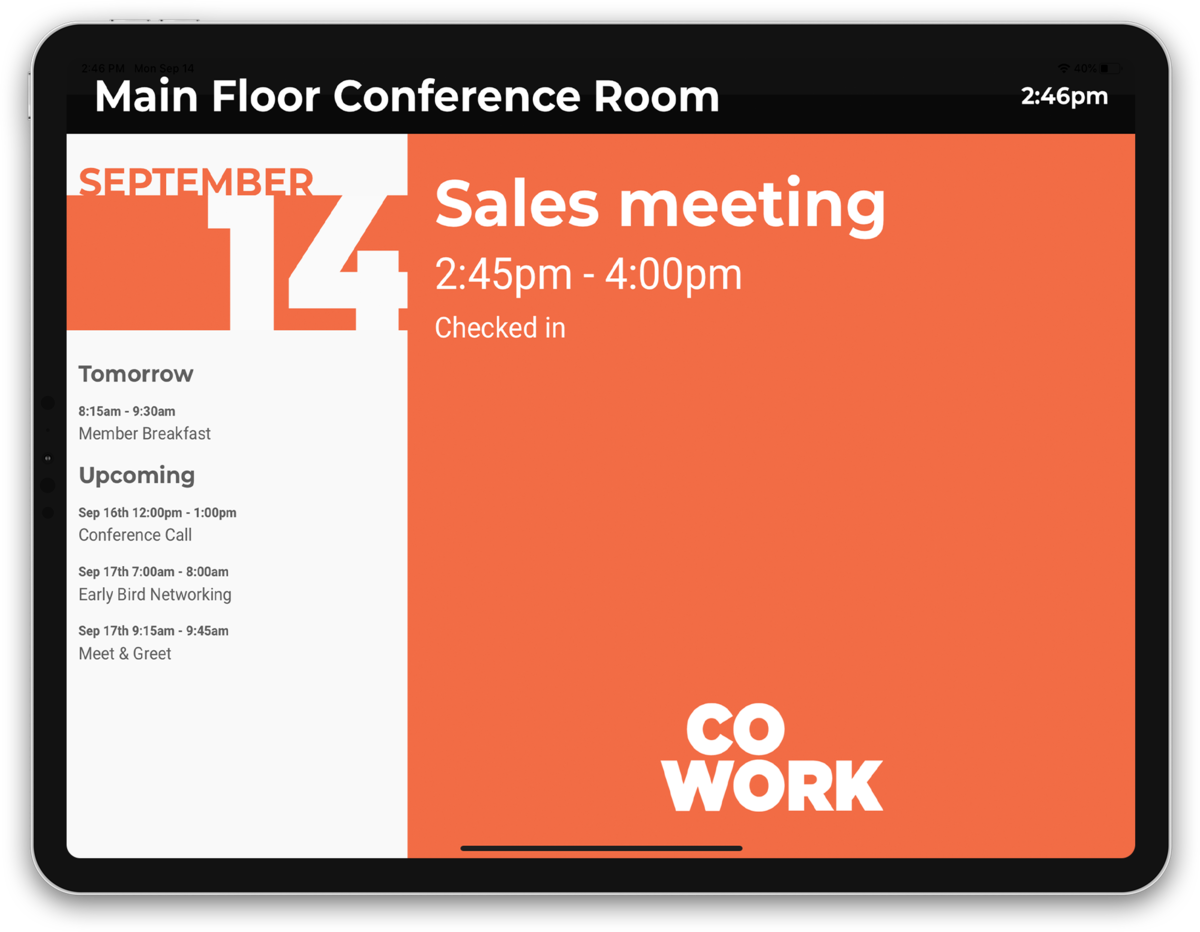 Last Edit: 9.16.21 ER