Check-Ins


You can download a report of who was in your space by navigating to Reports > Check-ins.
Members are automatically checked in whenever they do certain things in your space: redeeming a punch pass, unlocking a door, and checking in for a resource reservation.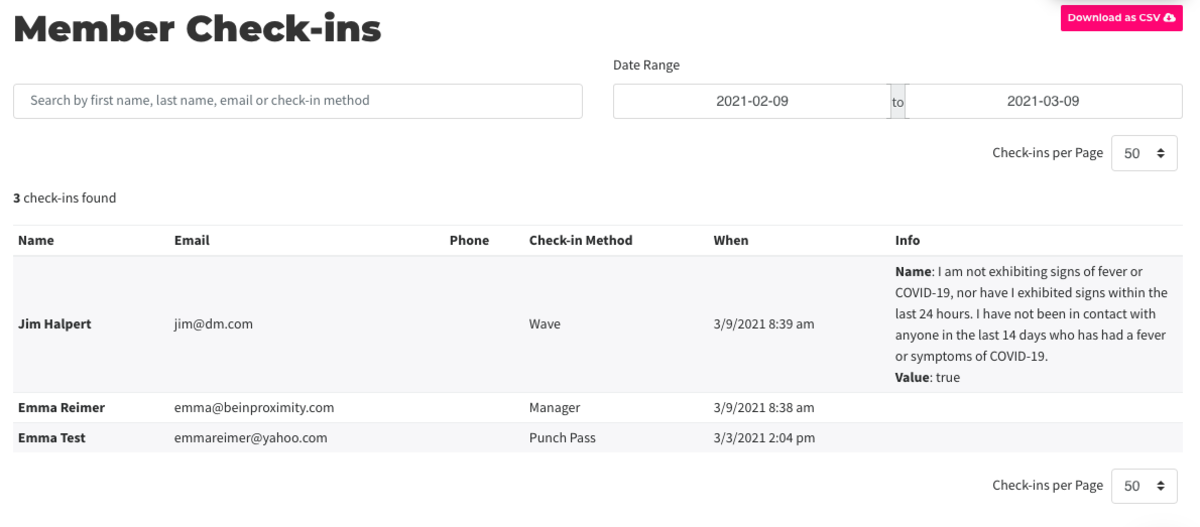 "Here Today"
If you navigate to your Dashboard, you can see a list of members who have visited your space today. If you hover over their profile picture, you will see when they where last seen. This excludes anyone who has checked-in via network access.
Check-in Methods

1. Wave: When a member checks in on Wave. They will need a pin-code set up in order to do this.
2. Manager: When an admin manually checks in a member by navigating to Manage Members > Member List.
3. Punch-pass: When a member uses a punch
4. Door-access: When a member uses their keys
5. Network access: When a member signs in to the Wifi. Network Access check-ins could be caused by computers, tablets, kindles, phones or other smart devices left in your space even when the member is not there.
6. Reservation: When a member checks in to a reservation on Room View
7. Captive Portal: When a member successfully gets through the captive portal to log on to the wifi.
Please Note:
If a member has agreed to your self-certification via Wave, you will find that in the Info column.
You can search by Name, Email, or Check-in Method.
Reports can be downloaded as a CSV by using the pink button in the top right-hand corner of the page.
Members who check-in via network access will not show in the "Here Today" in your dashboard.
Check-in by Wave
Members may also manually check in using Proximity Wave by tapping the new "Member Check-In" button and searching for their name.
Please note: To prevent abuse, members will need to have set up a pin code on their account to check in with Wave.
Manually Check-in Members
Finally, you may check-in a member manually by navigating to Manage Members > Member List in your dashboard, hovering over the ... button to the right of their name, and selecting "Check In".
Last update Nov 10, 2022 at 2:13pm