Team for Admins (Member Use)
Welcome to Proximity Team!
This article will help you become a new team admin. Moving forward, your team is going to work hard and always continue to grow. With Team, your team will be able to seamlessly add more members, use memberships at more spaces, and allow you to set a reservation budget within your team!

We'll get started by teaching you how to set up a new team including adding team members, attaching memberships to your team members, allotting punch passes and reservation time to share between your team members, and more!

Teams can be created by any member! Simply start by navigating to Teams from your Profile Navigation (top/right profile image). Adding a new Team has a few basic steps, and also a few steps that you might not be familiar with.
Teams can also be created by space managers to help you get your Team up and running!
When the manager of your coworking space creates a Team for you, you can get Team ownership transferred to you at any time by contacting us.
If you already created a team, but need some extra assistance, you can get add a space manager as a Team Maintainer to help you through the process and to double-check Team settings.

Team Owners will still manage all billing, team budgets for Punch Passes and reservation time, Team members, and their memberships.

When creating a Team, all of your accepting Team members will have their current membership removed, and the Team will be prorated for the Team Membership to the 1st of the month.

Let's get started!
"Add a team"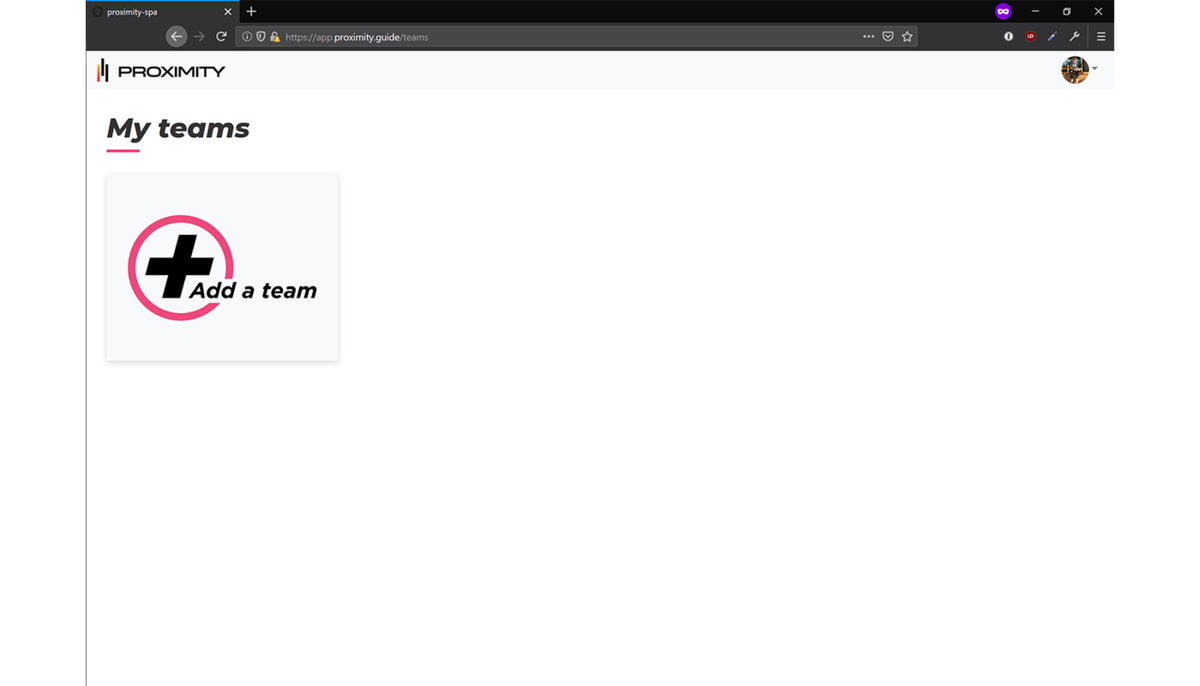 Enter your Team information
Team Name
Team image
Time Zone
Payment Source
- Add a new payment source" or (+) button
- Add a bank account for ACH transfers
- Instant verification through Plaid
- Manual verification (2 micro-deposits usually arrive in 1-3 business)
- Manually verified accounts can't be charged until after verification for payment source is completed
- After verification, your Team can be created and your Team Members will be invited
- Add a Credit Card for Payment
- Instantly verify through Stripe
- Add a 2nd payment source (+) button
- If you add a 2nd payment source, you can
- Change your default payment source
- Remove an old (not default) payment source
Invite Team members
Invite members to your team by their email address
Separate email addresses by a space or "Return"
Your Team will be charged a prorated amount for each membership after a Team Member accepts their invitation their first month
Add Punches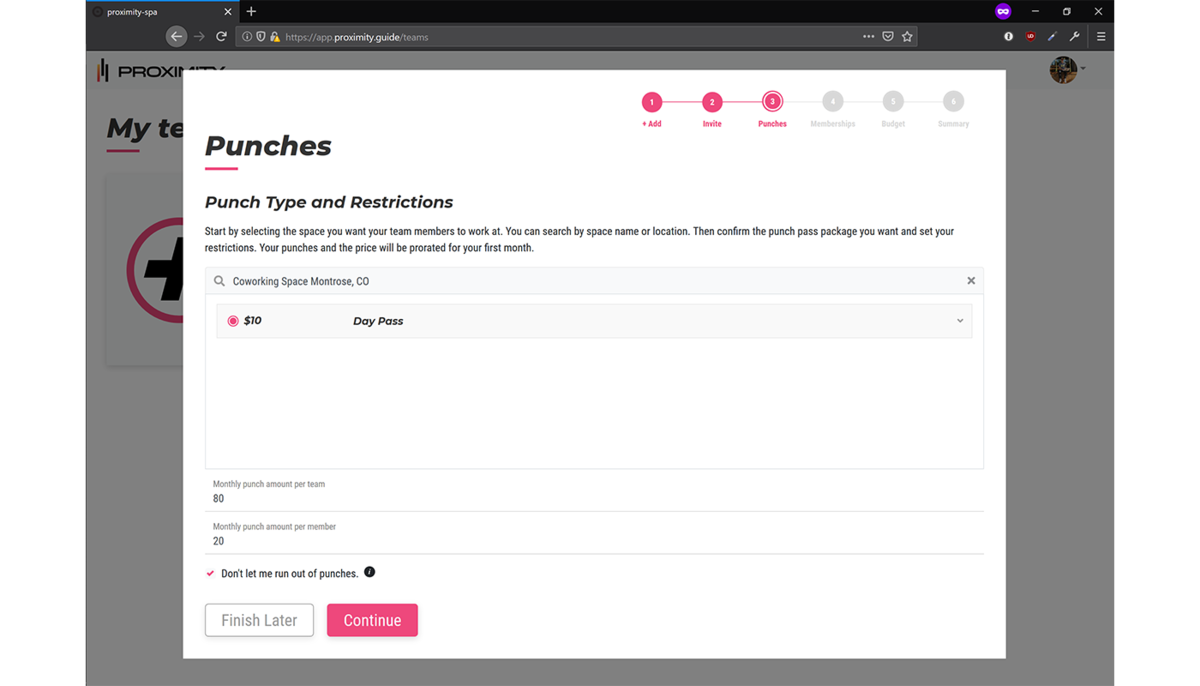 Do you want Punches Passes to use at your space?

[YES]

Select a space to add punch passes
Select your punch pass type
Choose your total number of team punches
Choose the number of punches allowed for each team member
Don't let me run out of punches!
- Automatically refill your punches when running low, at the end of the month!
Add Memberships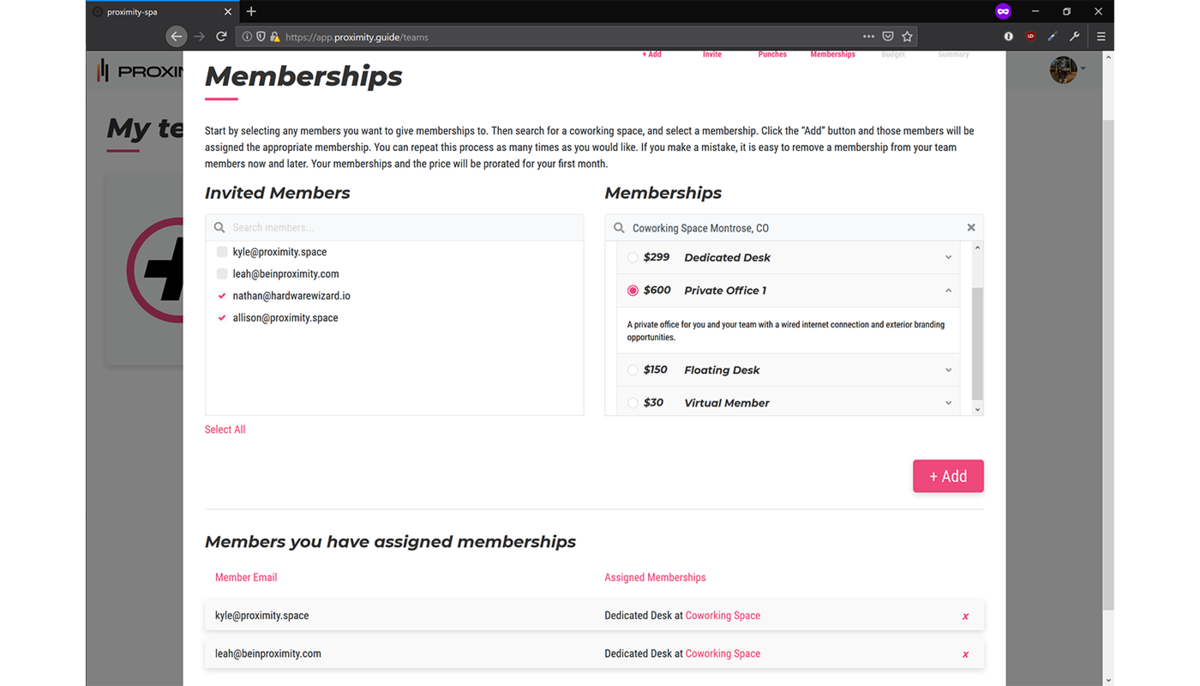 Do you want to add memberships for your Team Members?

[YES]

Choose any team member to attach membership to
Choose that team member's "home space" or a space they visit most for memberships
Choose the Membership you'd like for the team member(s)

Keep in mind: Members can only have 1 membership at each space! They cannot separately purchase a Membership, at the same space, without removing their team membership
Only recurring memberships will be available to choose from.

Repeat steps 1-3 as necessary for each team member
- Or by selecting multiple members inside of your team (or you can separate your teams into multiple teams!)
To remove a membership from a team member, scroll down and use the

(x)

next to the member's name and unwanted membership
Add a Reservation Budget
Do you want a monthly budget to allow your team members to reserve resources (like conference rooms)?

[YES]

Your Team Member's membership may already come with free resource time to use at the space(s) they hold a membership and that free time will be used first before shared time is used.
Set a total monthly budget to be shared between all team members
Set the individual team member budget for reservation use if you want to limit the amount of time each member can use.
Your Team Members can continue to reserve resources using a valid payment source at that space
- If your Team Member is out of free time and has used their entire reservation budget, they can still reserve resources charging any valid bank account or Credit Card.
Your Team Summary
Please double check all of your settings to make sure they are correct!
You can still make changes to your Team before inviting your Team Members
Team Activity and Settings!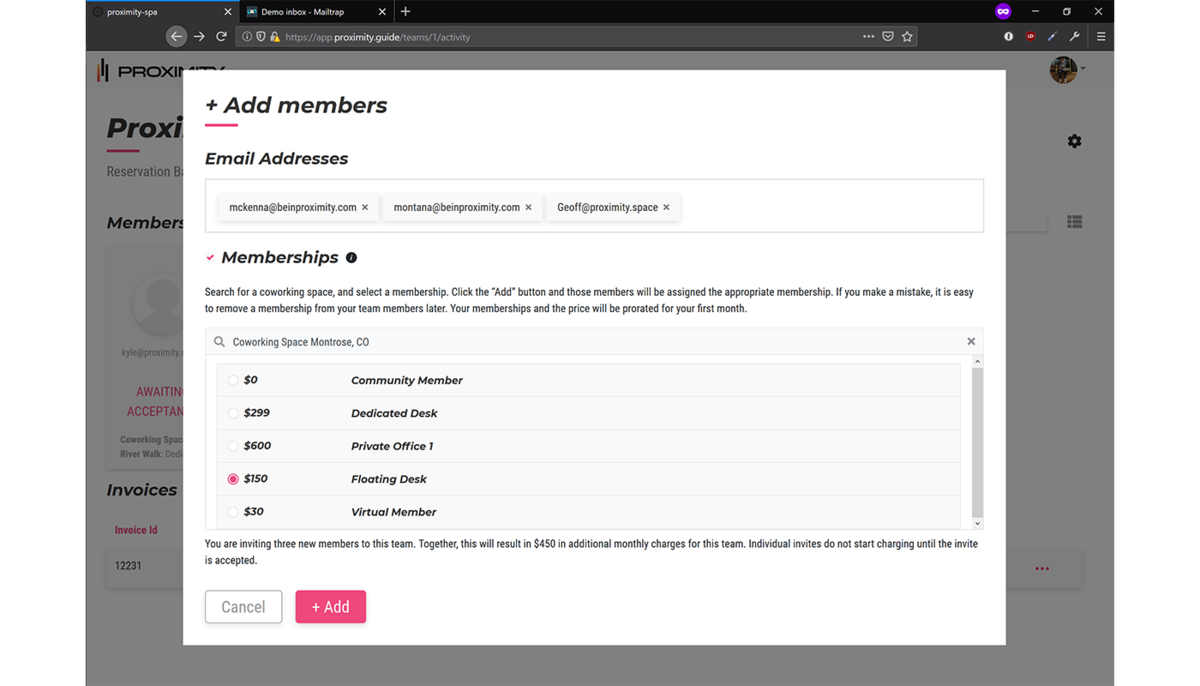 Select your Team by clicking anywhere on your Team or by selecting the "kebab" (3 dots) icon and choosing "Edit"
From your Team Activity page, you can get an overview of your Team balances, Team Members, and Invoices
Add new members to your Team
Select your Team Members to
- Add new memberships at a space(s)
- Remove memberships at a space(s)
- Completely remove Team Members from the team
View and download Team invoices for each space your Team is active in
Search for team members and toggle between grid and detailed list view
Select the gear icon (top/right of the page) to edit your Team settings