Setting Door Schedules and Managing Door Access by Membership Type
Set your door schedule for your building and create custom door access for Members with different Membership Types. Keys will only appear if the membership type has been given key access and it is during the time on the schedule when they have access and they are within proximity of your building. If the member's payment has failed and they have been set back to Community Member, the system will automatically remove access from their account.
Navigate to Manage Doors > Schedules. Click Edit Schedule on the door that you wish to grant access to.
Use the + - cursors to set the hours you'd like to have the doors unlocked each day.
Click on the Holidays/Exceptions tab to set your doors to be unlocked or locked for holidays or special occasions.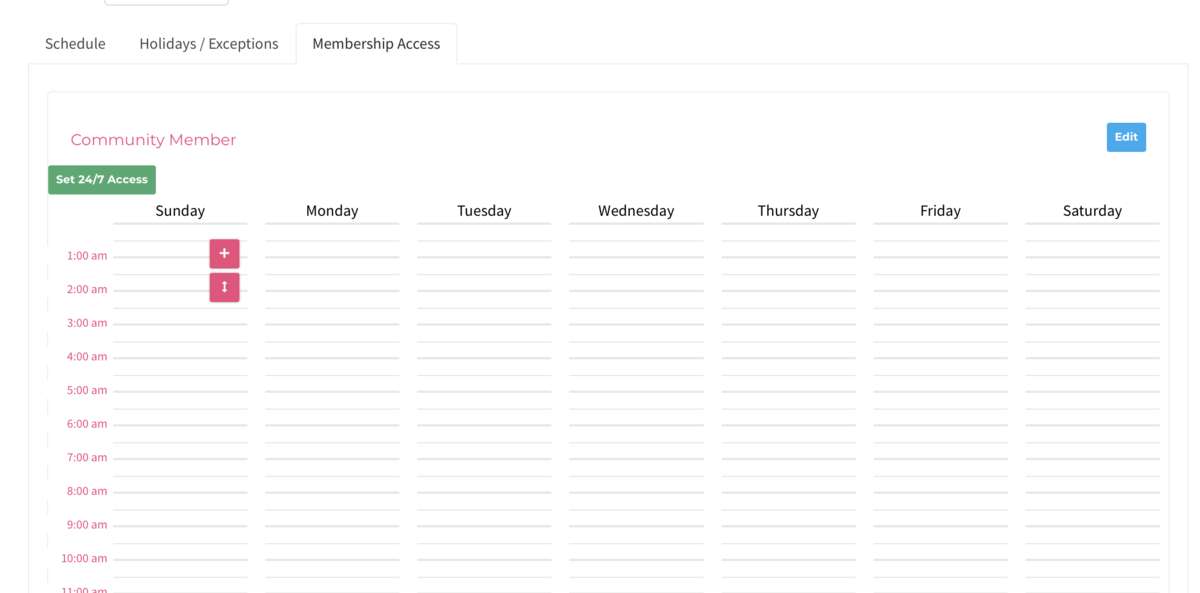 Click on the Membership Access tab and select the membership you'd like to give access to. Either click the 24/7 access button or use the + - cursors to set the hours you'd like to give each day. Be sure to scroll to the bottom of the page and click Update to save your changes.
Grant keys individually to members via their member page. Keep in mind that if you give key access to a member via this page, they will retain their access until it is removed, or their membership is changed to a Community Member.
AB 6/4/20