Configuring Door Schedules
Set your schedule for your regular hours, create exceptions for holidays, give your members access specific to their Membership.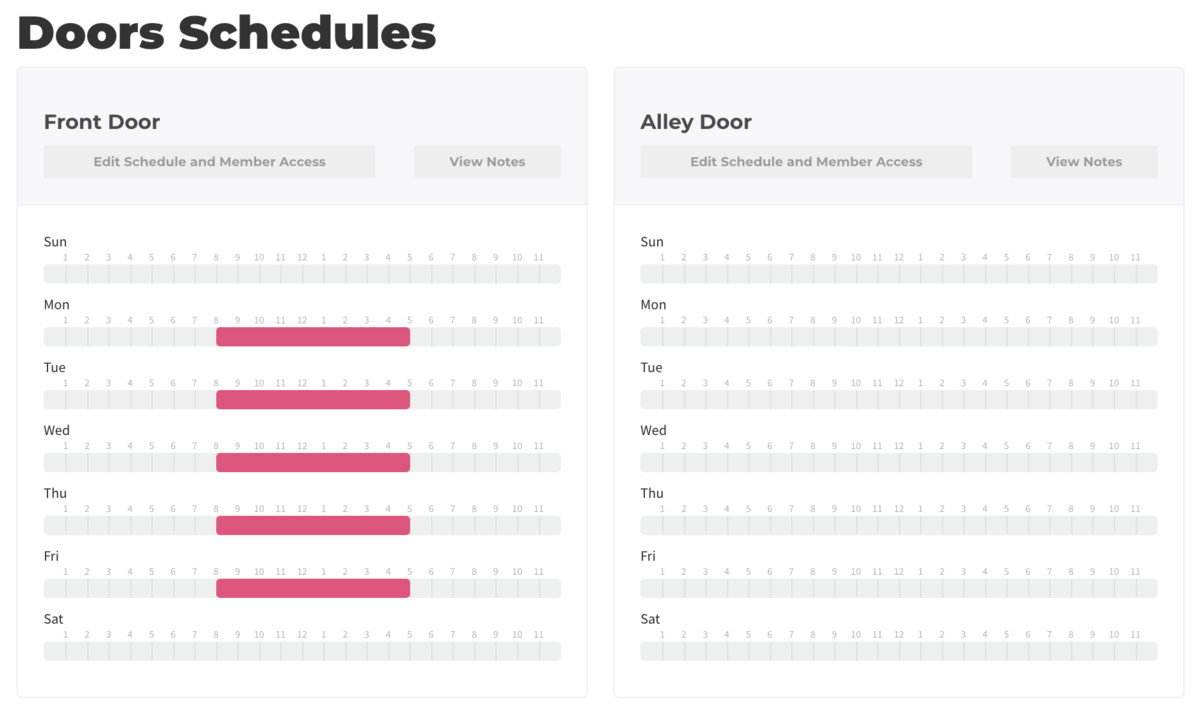 Setting Your Door Schedule
From the dashboard, navigate to Manage Doors > Schedules. You can set a different schedule for each door.
Click Edit Schedule and Member Access to set the schedules. To see when updates have been made to the door schedule, click Notes.
Click the pink plus sign on the schedule, and slide the cursor on the dark grey boxes to set the hours for when the door should be unlocked. If the doors should remain locked for a day, leave that day blank.
Holidays and Exceptions
While editing a door's schedule click the Holidays and Exceptions Tab to set if the door should be closed on holidays or open for special after-hours events.
Click Add Exception and choose the date on the calendar you would like to modify.
When adding more time for the doors to be open, be sure to enter your normal schedule and also the additional timeframe.
When replacing the normal schedule, only choose the times you want the doors to be open.
Membership Access
This is where you can grant access to members depending on their Membership. You may want to give 24/7 access to your Dedicated Desk members or restrict access for certain Memberships.
Click Edit on the Membership you want to add door access to and select the times members with that membership class should have door key access.
See the Doors by Membership page for more information.
Last update Dec 08, 2022 at 11:20am